Walaupun aku xder gamba yang cun macam orang lain...
sajer nak bagi si
Pinky Momma
pening baca banyak2 n3....
so here it is..
the official banner..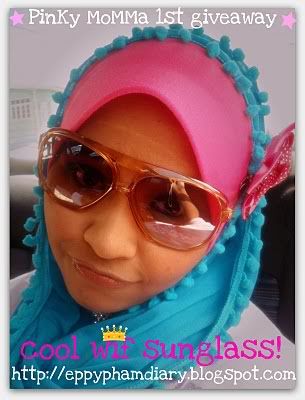 Cik Puan Pinky Momma
Dia wat contest gamba dia lagi CUn lak...
Hehe
Silalah jangan MUNTAH...
Trying to do ala2 Saloma
Nyeh..nyeh....
Mahal ni....
Siap ber'BUBBLE' haa...
Sapa gelak aku jentik blog dia...
the terms & conditions

* mesti ada blog
* be this blog follower PINKY MOMMA
* and her contest blog as well
* put this banner in entry & side bar
* buat 1 entry wif da title *cool wif sunglass!*
* tag 2 fwens at least
*tapi aku nak tag 3..sajer2

* yg msk ga ni inform
sape yg tag uols k..bg id follower dia (sbb org yg mengetag pun akn dpt hadiah)
* link kan entry anda smua kat entry

* * tarikh tutup : 19 march 2011 **
Silakan kawan2..jom memeriahkan Contest ni....
Lalala...